Danskin Triathlon Series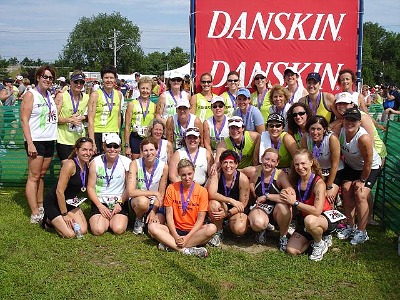 "The experience was awesome! I can say, "I AM A TRIATHLETE!"-Jen
Join other women who have successfully achieved their goals and dreams to train and complete the Danskin Triathlon! For over 10 years, we have helped women just like you to cross the finish line, grinning from ear to ear and pumping a fist in the air across the finish line. Then you will say, "I did it and I am a triathlete!". Our coaches train with "HEART" to get you ready! And we are trusted to be the Preferred Training Partner for this Series! So what are you waiting for? Join us today!
You'll get professional group triathlon training which meets 1-2 x per week (varies by market), a training plan focused on heart rate training and skills and drills to be prepared for race day! Train with us in the following areas for this amazing race (all levels welcome). Below are group training options. If you are not near one of these cities, please consider one on one coaching with a live coach or web coaching.
Click on the area below for our Group Training Teams!

Danskin Austin, TX

Danskin Orlando, FL
Danskin Pleasant Prairie, WI
Danskin Sandy Hook, NJ

Danskin Seattle, WA

Danskin New England, Webster, MA
"It was so much fun to train and participate with a great group of women and friends. Thank you for a fantastic experience."-Cathy
For information on 2012 Danskin Triathlon,
click here.